We are happy to announce that ESTAIR OÜ is the Turkish national airline Turk Hava Yollari A.O. contractual cooperation partner for ticket sales and related support services at Tallinn Airport.
Connecting the world with world-class service
Since 1933, Turkish Airlines has grown from a modest domestic airline to a global aviation giant. Thanks to its rich heritage, extensive destination network, modern fleet and top-notch service, Turkish Airlines is a symbol of Turkey's rapidly developing aviation industry.
Growth and ambition
In 1947, the first international flight to Athens took place. In 1951, the aircraft fleet was increased to 33 aircraft and flights to new destinations began: Nicosia, Beirut and Cairo. But the main focus remained on domestic scheduled flights.
Over the years, the company expanded both domestically and internationally, joining the International Air Transport Association (IATA) in 1956, which hinted at the ambition of the company's global goals.
The airline suffered several setbacks in the late 1970s and 1980s, but the Turkish government, which came to power in 1983, took a firm aim to grow Turkish Airlines into a strong international airline.
In 2008, Turkish Airlines joined the global airline alliance Star Alliance.
A worldwide network of routes and a hub in Istanbul
Like all airlines, Turkish Airlines faced challenges during the pandemic. Fortunately, there was a quick recovery and by January 2021, 208 destinations were already served (compared to 317 before the pandemic). By February 2021, Turkish Airlines had become Europe's largest airline by passenger numbers, overtaking previous leaders Air France-KLM, Lufthansa, British Airways, Ryanair and easyJet.
Modern aircraft fleet and technological advances
Today, it serves more countries than any other airline and operates a fleet of 374 Airbus and Boeing aircraft. In addition, orders have been placed for the Boeing 787, Airbus A321 Neo and A350 models.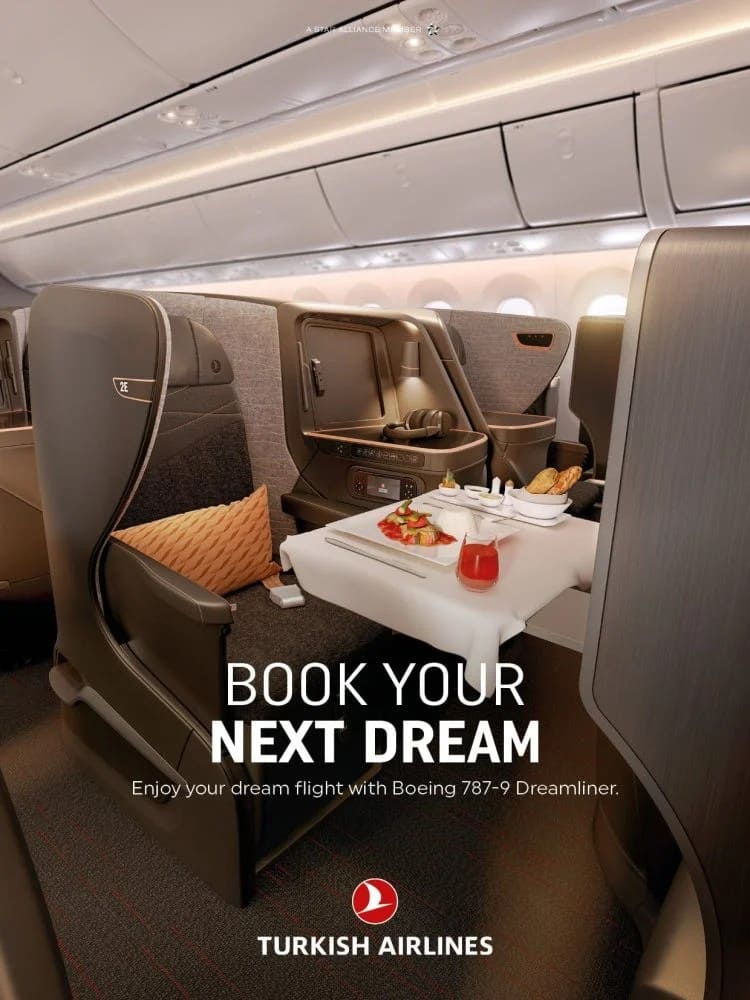 Exceptional service and passenger satisfaction
Turkish Airlines stands out for its exceptional service. The flight crew is known for their professionalism and very friendly service, creating a cozy atmosphere. Passengers enjoy gourmet meals, a variety of in-flight entertainment and Wi-Fi on select flights.
Awards and recognition
Turkish Airlines' commitment to excellence has been recognized with a number of awards and recognitions highlighting the company's achievements in the areas of safety, service quality and sustainability.
Thanks to its impressive route network, young and modern aircraft fleet, Turkish Airlines has been awarded the title of the best airline in Europe.
A vision of the future
Turkish Airlines continues to develop, aiming to be the preferred airline for all passengers. An emphasis on innovation, sustainability and passenger satisfaction keeps the company at the forefront of aviation, connecting people, cultures and opportunities around the world. The airline plans to open new routes to Africa, Asia and South America in the coming years. Turkish Airlines is also planning to upgrade its fleet to offer even better service to customers.
With great passion and ambition, they fly to almost all countries around the world.
Tallinn connection
Turkish Airlines started flights from Istanbul to Tallinn in June 2013. At the moment, there are flights 6 times a week (autumn 2023), but 10 flights a week are planned in the winter period.
The flight time is about 3 hours and 40 minutes.
The Turkish Airlines flight from Tallinn is popular for both business and leisure travel. The airline offers its customers a comfortable and high-quality service.